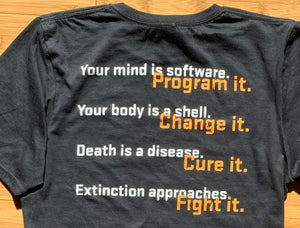 New Extinction Approaches t-shirts have arrived along with Posthuman Studios logo patches and a restock of We Make Stellar Games hoodies!Beyond the new merch it's time for the Spring Cleaning Sale with a bunch of scratch & dent books including EP2 copies for only $45 and other limited oddities!
---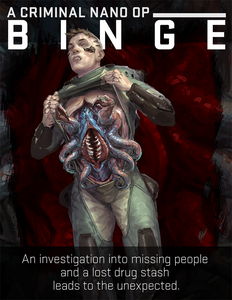 This week we've released Nano Op: Binge, a two-page scenario for Eclipse Phase. A simple investigation on Pathfinder City is... surprise, not so simple!Last month we debuted Nano Drops with Nano Drop: Firewall Scratch Space Random Inventory, a 100-item random table of items you might find in one of Firewall's secret caches — good for random discoveries or mining for plot hooks.Spring SaleSpeaking of secret caches: in April we'll be cleaning up the shipping office with sales on merchandise and books — with new merchandise going on sale at the same time so you can stack your savings and swag all together....
---
In short, the Eclipse Phase Condensed Player's Guide is still at the printers. We hit the holiday busy season, and our printer has been having supply chain issues like so many other companies.Most recently we've been told that the Condensed Player's Guide will ship to us in early February, and as soon as it hits the doorstep I'll be doing my best to turn and ship out all the pre-orders.All Condensed Player's Guide pre-orders will be getting a bonus with their order—thanks for your patience and support. Before the Condensed Player's Guide went to press, we finalized the version 1.3...
---
Black Friday Sale on Posthuman.Shop & DriveThruRPGThis year we'll be doing a print, digital, and merchandise sale starting on Black Friday (Nov 25) and running through Cyber Monday (Nov 30th) with savings up to 50% on books and even more on digital items!We hate the feeling of buying something and then seeing it go on sale a few days or weeks later, so: any print titles and merchandise you buy from Posthuman.Shop (or have already bought) in November, we will refund you the difference between what you paid and the Black Friday Sale Price! Those refunds will go out during the...
---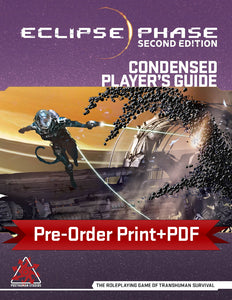 Weighing in at 112 pages (and hopefully about 20 ounces) today we offer you the Eclipse Phase Second Edition Condensed Player's Guide Pre-Order!   All pre-orders come with a complementary PDF, and since the Condensed Player's Guide is designed to equip everyone at the table with their own copy of the book, there's also a quantity discount if you pre-order 3+ print copies.In addition, we've got some restocks available, but supplies are limited so if you want the very last Laser Cut Pool Point Tokens ... don't delay! As we work through the COVID-19 pandemic (and the terrible supply chain issues that are not about...