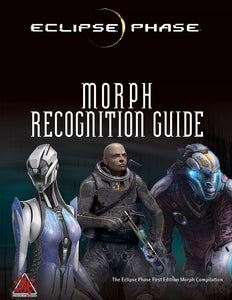 Posthuman Studios
Morph Recognition Guide [first edition]
Regular price
$10.00
Sale price
$45.00
Unit price
per
Morph Recognition Guide:

Includes every Eclipse Phase morph—the most essential gear for every character
Morph-related rules compilation
New artwork and size-comparisons
Compiled tables and quick reference material
Contains material previously published in:
Eclipse Phase, Sunward: The Inner System, Gatecrashing, Panopticon, Rimward: The Outer System, and Transhuman.

Eclipse Phase Second Edition Compatibility:
This is a title that was released for the First Edition of Eclipse Phase, and contains heavy rules material. We consider it incompatible with Eclipse Phase Second Edition, and the material in it will be replaced by EP2 releases.
When do you ship orders? 
For any title in the Books category, including Eclipse Phase Second Edition, those books ship from one of our fulfillment partners, the legendary Atlas Games. They ship titles out almost every weekday.

Other merchandise, including pre-orders, ships from our home office, and we try to ship things out once or twice a week depending on order volume.
What is Posthuman Recommended shipping?
Posthuman Recommended shipping for books for non-USA orders uses a Delivery Duty Paid (DDP) service. By using DDP, we assume the liability for any import duties that you may normally have to pay!
Your books will be shipped from the Atlas warehouse to a shipping company in your region, and then will be handed to that company for the "Final Mile" to your door. You'll get tracking information for both legs of your new book's journey to you!

DDP is not as fast as a courier service, but is much less expensive, and still takes things across the globe in under ten days, typically.
We understand that shipping (particularly internationally) is expensive. Amazon and other major retailers get huge reductions on their shipping rates due to the volume of orders they place. We aren't able to match those rates, and we appreciate you supporting us directly.
---