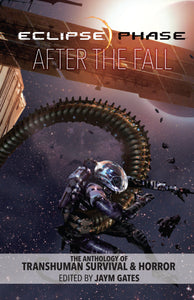 Posthuman Studios
After the Fall
Regular price
$0.00
$20.00
Unit price
per
In a world of transhuman survival and horror, technology allows the re-shaping of bodies and minds, but also creates opportunities for oppression and puts the capability for mass destruction in the hands of everyone. Other threats lurk in the devastated habitats of the Fall, dangers both familiar and alien.
After the Fall is the first anthology from Posthuman Studios, set in the world of Eclipse Phase, their award-winning roleplaying game. The anthology will be a mix of old and new fiction, including stories by Eclipse Phase favorites—Talia Dean, Jack Graham, Steve Mohan, and Rob Boyle and Davidson Cole. New fiction will feature science fiction rising stars Ken Liu, Madeline Ashby, Fran Wilde, Karin Lowachee, Wesley Schneider, and Andrew Penn Romine.

Available in ePub, PDF and print; under the Creative Commons Attribution- Noncommercial-Share Alike 3.0 Unported License.
Want more free
Eclipse Phase?
Download
A Time of Eclipse,
the
Eclipse Phase
setting guide!
When do you ship orders? 
For any title in the Books category, including Eclipse Phase Second Edition, those books ship from one of our fulfillment partners, the legendary Atlas Games. They ship titles out almost every weekday.

Other merchandise, including pre-orders, ships from our home office, and we try to ship things out once or twice a week depending on order volume.
What is Posthuman Recommended shipping?
Posthuman Recommended shipping for books for non-USA orders uses a Delivery Duty Paid (DDP) service. By using DDP, we assume the liability for any import duties that you may normally have to pay!
Your books will be shipped from the Atlas warehouse to a shipping company in your region, and then will be handed to that company for the "Final Mile" to your door. You'll get tracking information for both legs of your new book's journey to you!

DDP is not as fast as a courier service, but is much less expensive, and still takes things across the globe in under ten days, typically.
We understand that shipping (particularly internationally) is expensive. Amazon and other major retailers get huge reductions on their shipping rates due to the volume of orders they place. We aren't able to match those rates, and we appreciate you supporting us directly.
---